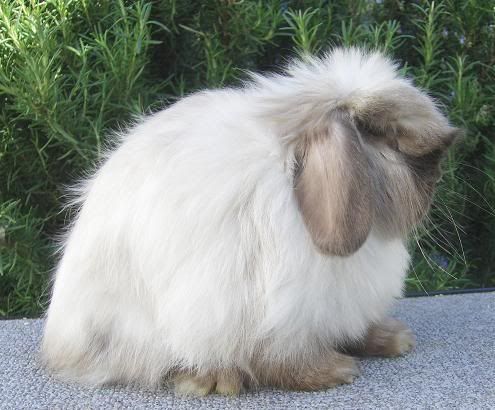 Starlite's Vixen(Sky High Walker x Starlite's Violet)
It's been a short while since I've had a chance to post. Whewww it's been a whirlwind past couple weeks. I have been out of town at shows a lot of times, or even on a mini-vacation visiting people in Oregon/Washington! (Which that will be shared in a future post!). It should be time to get a breather soon.
Exciting news- We will be attending the 1st ever
West Coast Classic Show
in Monterey, CA this weekend! Susie (Wooly World Rabbitry) and I are leaving tomorrow morning, bright and early. The trip to Monterey is roughly 3 hours from my area. Since Monterey is a big tourist destination the hotels are quite expensive. Since I've been so busy I waited until the last minute to reserve the room and I'm paying for it (quite literally!). Ah well, it is going to be a FABULOUS weekend. We have exhibitors coming from all over the West Coast. I think they are hoping that this show becomes a must-attend destination for exhibitors from all across the country. There are 2 National Specialties being held (Beveran and Mini Lop), as well as 16 independent specialties, and 3 All-Breed shows. How incredible. And this is only the FIRST year for this show.. and guess what? The number was just announced that they have
5,000 entries
! Absolutely incredible. It can only get bigger and better from here. I'm equally excited for Allen Mesick's Judges Conference to be held on Saturday night. This line up is wonderful and I'm sure I will learn a ton (and eat a ton with the tri-tip BBQ planned). I'm also hoping for a visit to the World Famous Monterey Bay Aquarium while I'm there. I haven't been in quite a long while. I will check in when we come back with photos and info on how it went.
Did you check out the photo above? That's Vixen, my cute tiny little sable point girl. She is very small, but very solid. I'm interested to see what she throws! She looks a lot like her mother Violet. I'd like to see some ears on her that are a little more open and thicker. But she's a total cutie!
On a side note, best wishes to all attending Dwarf Nationals this weekend!